Engagement shoots can often be more fun than wedding shoots. It's a more relaxing, personal environment, without the crushing stress of a major event taking place around you. As a photographer, I find that these kinds of shoots allow me to engage (sorry) with my couples more and get a little more creative as it's just the three of us.
Engagement photos also don't tie you down to a location near (or in) the wedding venue. I've shot all over the beautiful scenery of Gippsland; one of my favourite things to do is steal away with a couple and translate their love story to images. So with that in mind, let's take a look through seven beautiful engagement shoot locations in Gippsland and hopefully inspire some ideas for your own session!
Ninety Mile Beach
Ninety Mile Beach is one of the most natural stretches of beach in the country, unspoilt by excess human interference. And it really looks like a beach, in the purest sense of the word. No rock clusters or dunes. It's a seemingly endless vista of sand that stretches off into infinity. Which makes it simply PERFECT for sunsets.
Sunsets make for great light when it comes to either engagement photos or wedding photography. There's a hazy diffusion which gives shots a dreamy, ethereal feel. Personally, I find that a pretty fitting backdrop for the culmination of an epic love story!
Forest Caves on Phillip Island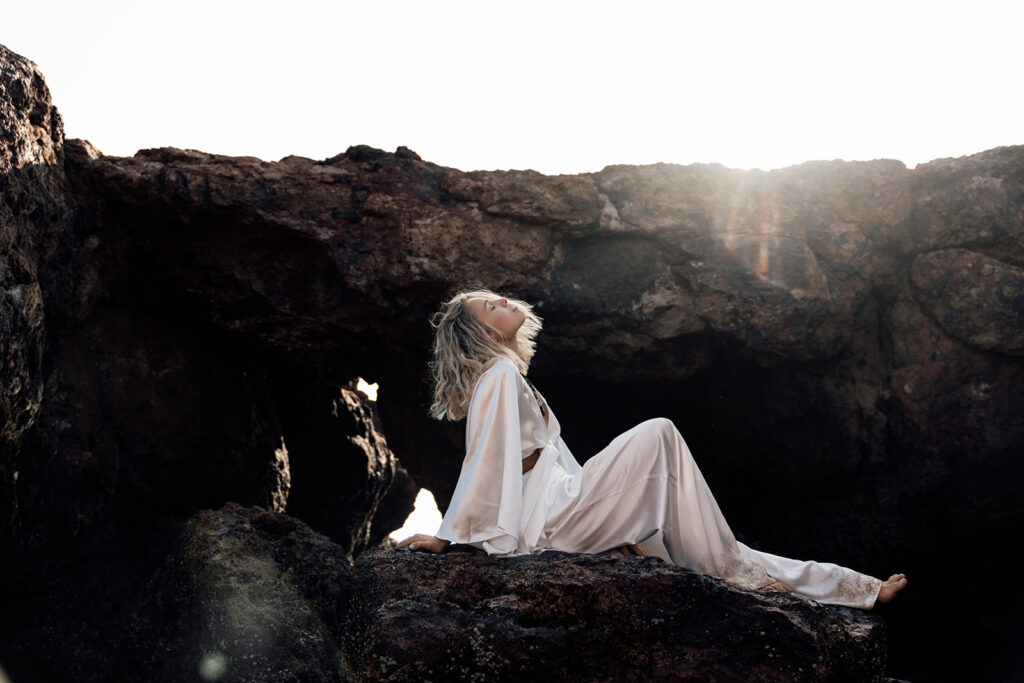 If a spotless beach isn't your thing, try heading to some rocky terrain in the form of the forest caves on Phillip Island. These fascinating caves make for one of the most unique engagement shoot locations in Gippsland! At high tide they're filled with seawater, but when the water recedes they become easily accessible (just got to remember to finish up in plenty of time).
The caves are pristine and a little bit of a local secret; if you're down there at the right time, chances are you'll have the run of the place to yourself. A beach can get a little crowded at times (you just have to roll with it), but if you're after solitude and intimacy, these beautiful caves might be right up your alley (or beach).
The Big Drift is, as the name implies, a big stretch of inland sand dunes which tower over the coastal scenery of Gippsland. If you want isolation, then this is the place to come; it's very likely yours will be the only footprints making marks in the golden sand.
Sunset is very beautiful on the Big Drift, but so is sunrise; if you fancy a different flavour to your photos, it's worth getting up early! Somewhat unusually for Gippsland engagement shoot locations, it also looks very cinematic when the weather isn't great. I'm all about cinematic shots, so if that's also your thing, we could capture some epic photos together out on a cloudy Big Drift some day!
The Blue Pools reside in a gorge near Briagolong. Locals know it as one of the best secret swimming locations in Gippsland, but it can also provide a gorgeous, rugged backdrop for engagement photos.
This beautiful spot is just a few metres away from the road, but it looks like you've been transported into the luscious depths of the Victoria wilderness. If you want a more adventurous, fun-loving angle to your engagement shots, this could be the place for you. Also, no one's stopping you getting into the water…
Pinewoods near Rosedale
Sometimes trees make the best props. And the beautiful stretch of woodland near Rosedale features some of the most striking flora and fauna in the area. The Holey Plains State Park covers over 10,000 hectares of land and contains swaths of open-forest growing on a series of low, sandy ridges. There are numerous walking and hiking trails open to the general public.
Alpine Mountain Region
The beautiful Omeo region is one of Victoria's best-kept secrets. Once you get up there, you're surrounded by beautiful stretches of Gippsland scenery, which can make for amazing backdrops for sweeping, cinematic shots.
In terms of natural beauty, it's hard to beat this place. In fact, I often find there's far too many options for gorgeous photography up in the Alpine region. Mountains, lakes, rivers, forests; it's all up for grabs, so it's just a case of picking our favourite spots and getting a little snap happy!
3 Clarence Street, Loch, Victoria 3945
hello@lochpaperscissors.com.au
Maybe the outdoors just isn't for you; maybe you crave the soft caress of homely comforts and want to reflect that in your engagement shots. No judgement here; indoor cats are cool by me. However, shooting in your own home can lack the sense of occasion that your photos deserve. That's where a beautiful rented property like Loch cottage comes in.
Nestled in the heart of Loch village, this gorgeous cottage is the perfect place for a cosy, loved-up indoor shoot. It suits a winter season perfectly, but it also comes equipped with a rustic garden if you feel like getting out into the sun and snapping some shots!
Look, Gippsland is just a beautiful place, ok? You can pretty much point a camera anywhere and find something pretty, epic or interesting. So let's go exploring together! The seven suggestions above are just some ideas of where to shoot engagement photos in Gippsland; I'm always up for exploring new places and adding to the list! If you want to roll up the sleeves on your own engagement shoot, please don't hesitate to get in touch. I love hearing from new couples!