With Evie of Peace & Love Ceremonies
I've been witness to a lot of wedding vows over the years. I've seen the good, the bad and…let's just say the not so good. So I teamed up with my good pal Evie, an in-demand celebrant from Gippsland and Melbourne's Peace & Love Ceremonies, and she came up with this handy little guide to nailing those vows. These are her top tips on writing wedding vows, distilled from years of ceremonial experience. We hope you find it informative, reassuring and most importantly, a lot of fun!
---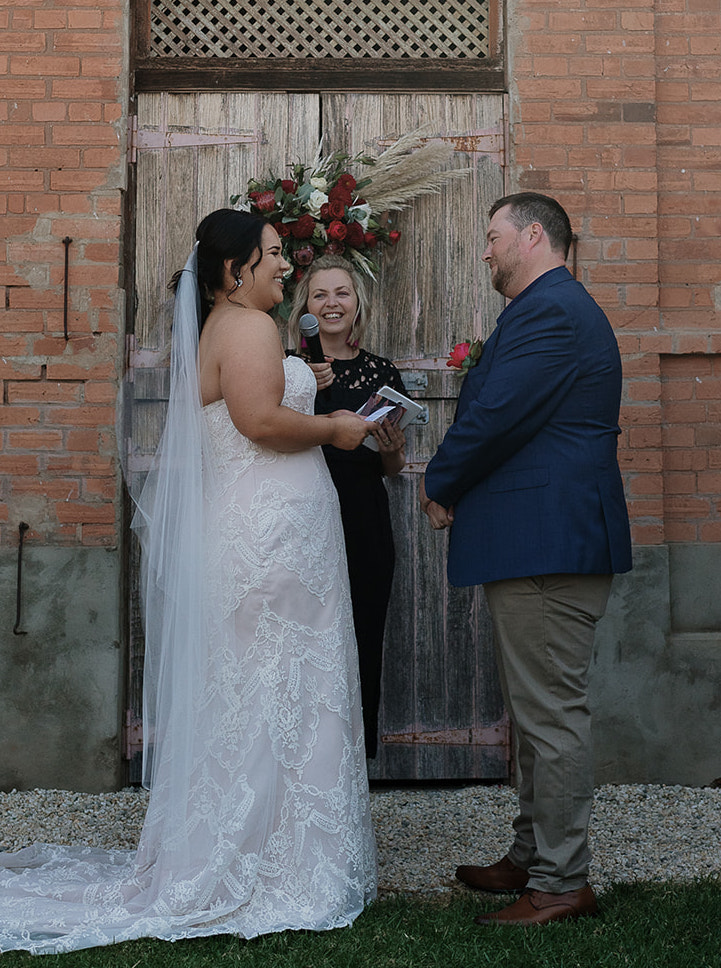 Want to Write Awesome Vows?
As a celebrant, I work closely with couples during the planning stages of a wedding, all the way up to the big day. I've seen every different personality type, every unique dynamic and every opinion on personalised vows.
Some people see it as the defining moment of the ceremony and they're busy putting pen to paper six months ahead of time. Others can't think of anything worse than getting up in front of their nearest and dearest and proclaiming their undying love, but they know it means a lot to their partner, so they soldier on. Some people are just worried they'll get too emotional up there!
Nearly every couple wants me to read over their first vow draft and tell them what I think. Everyone is worried about getting it right. But I can tell you that personalised vows don't have to be scary, daunting, or even hard work. I'm going to take you through how to write wedding vows that will make an impact. So check out this guide, keep it fun and remember: you got this!
Introverts Vs. Extroverts
First of all, it's very important that you consider how your partner may be feeling about the whole thing. The old adage is true (trust me!) – opposites attract. Quite often, an extrovert is tying the knot with an introvert. Or, as I like to say, there's always a talker!
If you're the extrovert in the partnership, you need to consider this. While the idea of personalised vows may be exciting and fun for you, it might be the stuff of nightmares for your significant other. Try to be accommodating and realistic as you bring them to the same level of excitement that you're experiencing. It probably won't happen overnight! But if you're in it together, you'll get there.
How to Write Wedding Vows
Next, we'll go over how exactly you write the vows themselves. Not all of us are born writers; some people may not have written anything significant since school or college. That's totally fine. Start off by thinking about the language you normally use with one another. This is going to be slightly different for everyone.
Maybe you have an inside joke only the two of you are in on. If so, add it into your vows! Think you're more of a gushy, romantic type? Go for that kind of language. Are you more of a straight-shooter? Start there. You don't want to kick off your married life together by saying things you don't mean, in a way that doesn't sound true to you.
Plan how you're going to tackle the language you'll use and what your writing approach will be. Want to do it totally solo and surprise each other on the big day? Prefer to decide on a basic template together and then complete them separately? How about organising a date and writing them together over a great bottle of wine (or two)? All perfectly acceptable. There is no right way, just your way. Find what works best for you!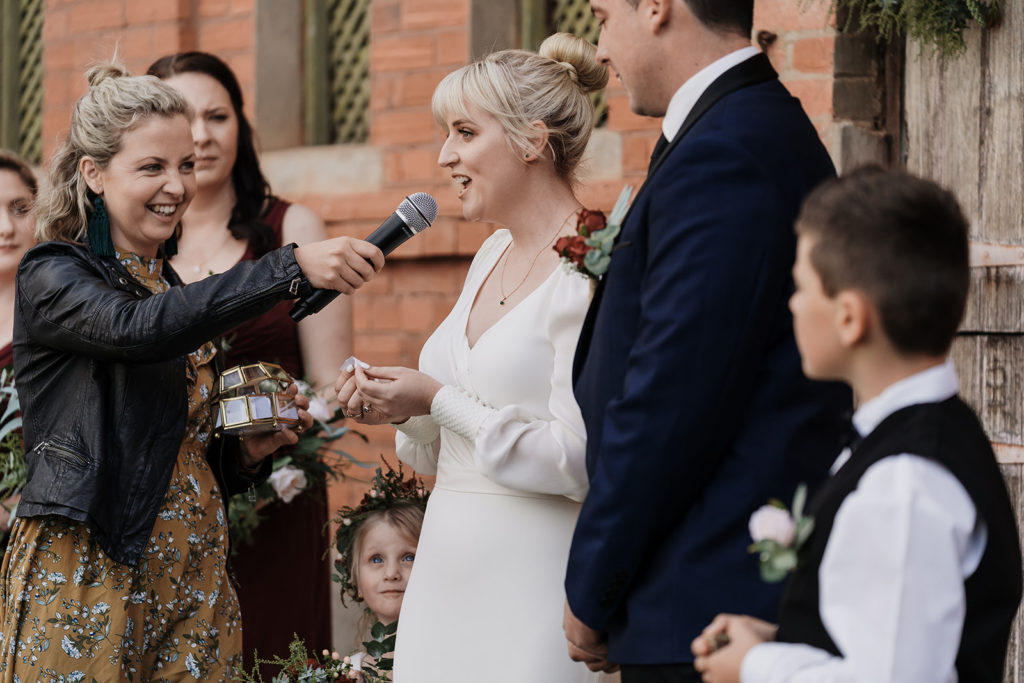 Wedding Vow Writing Hacks for the Surprise Approach
For example, say you've decided to write these vows separately and keep them a surprise until the day. It's a pretty popular approach; it can be so special to give each other a little gift in the midst of a day planned with military precision. Decide on the general length of the vows, keeping in mind that one of you may naturally say more than the other (looking at you, talker!). You don't have to be exact but it will avoid a situation where one person trots out two sentences while the other readies an A4 binder.
Have the same basic discussion about the vibe; it's not a good look to have one of you gushing hopelessly romantic sonnets while the other fires joke after joke. Sometimes I encourage couples to try something like opening with a sentence or two, make three to five promises to one another, and then close it off with a final couple of sentences. It's simple, effective and it can be full of love with a sneaky joke or two in there for good measure.
Don't Forget to Make It Personal to You
Moving on, remember that you don't have to be the most romantic person on the planet. That's neither the aim nor the expectation. It's not on you to bring the whole house down in floods of tears. I know for me, and for many couples I've married (because I've asked them!), I would much rather see something that is unapologetically you. Something straight from the heart, however that might come, instead of a copy and paste job from Pinterest. By all means, have a Google for some inspiration; but your own words are always best.
If you're an emotional person, or think you might suddenly become one on the day (hello, me!), my top tip is to keep those vows short and to the point. While it's totally fine to be a little teary and bleary-eyed on your special day, you don't want to be stuttering and slobbering through an essay of vows. It's not a great look.
Finally, if you need a little more help, search out Peace and Love Ceremonies on YouTube and watch my 'How To' video on writing your vows. You can also check out some samples read by yours truly! Above all, remember this; it doesn't have to be scary. It doesn't have to be intimidating. Speak from the heart, have some fun with it and you'll do perfectly, whichever way you decide to go!
---
So there you have it -one of the best wedding celebrants in Melbourne has just let you in on how to nail those vows. Lucky you! If you have any more questions, or if you're interested in chatting to someone about shooting those vows you worked so hard on, don't hesitate to get in touch with Evie or me! Until next time!