There are loads of good wedding venues in Collingwood. It's one of the best spots to get hitched in all of Melbourne. But what if you want to avoid the obvious locations and opt for something more unique? More personalised? More you?
Well, you've come to the right place. I've shot a lot of weddings in Collingwood, big, small, good, bad, ugly. I know all the best venues in town, but I'm also au fait with the lesser-known ones. If you're looking to put a unique spin on your wedding, then check out my list of six wedding venues in Collingwood that you've never heard of!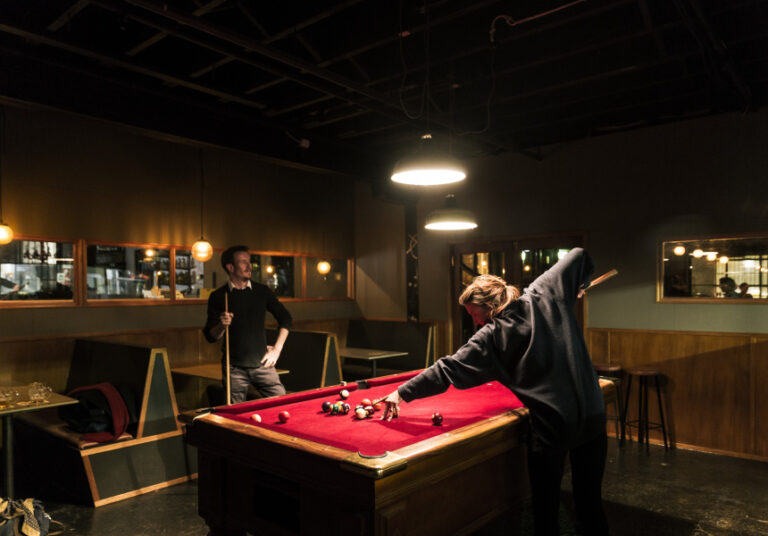 25 Easey St, Collingwood VIC 3066, Australia
+61 3 9029 8484
The beautiful hideaway of Paradise Alley has been converted from an old warehouse, but has somehow managed to retain buckets of old school charm. Tucked away in a large space with several other businesses, Paradise Alley also features a thirty-five seat beer garden, providing the perfect space to entertain an intimate, cosy wedding on a beautiful summer's day.
The fit-out looks natural, but was actually built from scratch. Some of my highlights include the Victorian ash timber bar, the expertly-welded drinks display and the atmospheric pool room, complete with hints of dive bar aesthetic.
The food is also fantastic; the neighbouring Little Latin Lucy provides the culinary service, but you can order from behind the bar! All in all, Paradise Alley is the perfect spot for a relaxed reception away from the crowds. Book the whole place and you'll feel like you have your own personal oasis.
3/48 Easey St, Collingwood VIC 3066, Australia
+61 3 9417 2250
Definitely one of the most unique wedding venues in Collingwood, Easey's takes some major inspiration from both trains and graffiti. Actually, forget inspiration – it takes that theme and runs with it. From the train carriages seemingly resting on the roof to the legitimate orange and brown train seating, Easey's goes all out. Even the menus are designed to resemble train timetables.
But you don't have to be into trains to appreciate this place! The views from the top floor (carriage?) are truly stunning, and seeing them from the inside of a converted train just makes the experience all the more memorable. The menu is a little eclectic, but if you're after a unique wedding experience with some eccentric trimmings then Easey's could be right up your street (track).
107 Cambridge St, Collingwood VIC 3066, Australia
+61 3 9419 4449
As the name suggests, Rosella is an Italian joint serving up delicious pasta dishes. Run by two Italians (who also create their own organic chardonnay), the decor is warm, inviting and full of natural light.
The food is obviously fantastic, and there's also a beautiful wine bar nearby that forms part of the same complex. Rosella would suit an intimate wedding reception with a focus on good food, good friends and good wine. The Italians certainly know how to do cuisine well, so why go anywhere else? Rosella's full capacity is 350, split between the restaurant, the wine bar and a deli.
33/39 Keele St, Collingwood VIC 3066, Australia
+61 481 398 686
Moving from Italian to Japanese, Cibi has been Collingwood's direct line to Tokyo for over twelve years. Delicate and traditional Japanese dishes are the order of the day, served up in a bright open space converted from an old clothing warehouse.
Their menu is varied, taking breakfast, lunch and dinner into account. The open-plan flooring and seating gives it a laid-back, welcoming feel, perfect for a reception at which everyone just wants to kick back and hang out. Cibi also offers a great selection of homewares if your guests feel like brightening up their living room while you're there.
Rear 288 Johnston Street, Abbotsford, Vic, 3067 enter via Lulie Street
hello@smalltalkevents.com
You might have heard of the iconic Taranto Shoe Shop, located in Abbotsford. But you probably haven't heard of Small Talk Events Space, a cutting edge venue space tucked away behind the famous shoe shop.
Small Talk Events Space (S.T.E.S. to its friends) has a long and varied history; first of all it was a clothing manufacturer, then a print warehouse, before settling on its current identity as a multipurpose venue.
The bright, naturally-lit warehouse space can hold up to 150 people, and opens out onto a large covered courtyard if you want to take the party outside (it's Melbourne – of course you do). The good thing about Small Talk is that for a flat rate, you get access to the whole space and are able to decorate and rearrange as you see fit. This makes it one of the best independent wedding venues in Collingwood for couples looking to put their own spin on proceedings.
100 Gipps St, Collingwood VIC 3066, Australia
+61 3 9415 1944
Featuring a 'Melbourne-proof' retractable roof, the Stomping Ground brewery beer garden combines gorgeous decor with homebrewed deliciousness. It's an open-plan affair, which can seat up to 250 people while also featuring an impressive 30-tap bar. So don't worry about running out of fuel anytime soon (although that might not be a great thing if you're the one picking up the tab).
It's pretty cool to host your wedding in an actual brewery; but beyond that, this beautifully-designed space is one of the hippest hideaways in all of Collingwood. Book the whole place out for you and your guests and you're on to something special.
These are just a few hidden gem wedding venues in Collingwood where I love to shoot. But obviously you need the right vendors to pull it all together! If you want to get in touch and discuss your favourite venues, or chat about working together on your upcoming big day, just drop me a line!