There's nothing I love working on a creative shoot. I'm an artist at heart; I try and inject as much creativity as I can into each and every wedding I photograph. But for this particular shoot, I was let off the leash and cranked it all the way up to 11. The brief here, for gorgeous couple Laura and Scott, was to dream up a retro airstream wedding, inspired by retro cinema and sci-fi.
So I already knew this was going to be a cool one! But I needed an awesome space, amazing lighting and some serious props. So how exactly did we go about achieving this very specific look? And how did this vintage wedding airstream shoot at Notel turn out exactly? Read on to find out!
The Concept

The main thrust of inspiration behind this shoot began with two elements; the movie Gattaca, a cult sci-fi flick from 1997, combined with Kodak Kodachrome film, a specific type of film stock used to shoot movies in the 1970s. Kodachrome really brings out a nostalgic feel to images, which is exactly what we wanted from this particular shoot. When combined with the cinematic look and feel of Gattaca, I felt we could have something really, really special.
Cinematic Composition

Gattaca was directed by New Zealand filmmaker Andrew Niccol and stars Ethan Hawke and Uma Thurman. The film uses its sci-fi setting to explore themes of eugenics, cloning and destiny. Although it was not a box office success, it was critically well-received, and went on to encourage serious discussion around the ethics of eugenics among both audiences and scientists. Pretty deep, right?
It also looks amazing. Gattaca was shot by Polish cinematographer Sławomir Idziak, who created some stunning visuals for the story. Idziak also worked on the mesmerising Three Colours: Blue. I remember watching Gattaca in the cinema when I was about 10 years old. While I didn't understand everything about it (show me a 10-year-old who understands eugenics and I'll show you a scary 10-year-old!) I knew I loved the images it created. It was one of the biggest inspirations in my lifelong love of cinema.


The Details


Thus, the shoot was born. It evolved out of my twin loves; cinematic image composition and telling a couple's romantic story though my wedding photography. I am a wedding photographer by trade after all, one that happens to love the visual aspect of films. When I shoot a wedding, I try to take inspiration from the greats to craft my images: Kubrick, Wells, Kurosawa, Ford…the list goes on and on.


The Venue


There are a number of quirky wedding venues in Melbourne, but for this shoot, I decided on Notel. This awesome venue has a futuristic yet retro feel that I felt would be right on the money for this shoot. It's full of interesting geometrical shapes and slick neon lighting that works great for shots.


The Clothes


The couple's wardrobe was also selected with this theme in mind. Laura's gorgeous white velvet-caped dress came from Raggatt Label, while Scott channelled Don Draper in his Carl Nave suit. The furniture and ceremony set-up came from the beautiful mind of Kate from Good Day Club; it even featured some OG Vernon Patten among other iconic futuristic 70s furniture.


The Food


The food was created by the culinary wizards at Fat & Skinny Catering, who kept the grub on-theme by offering up some classic 70s dishes with bright, neon colours. The jewel in the crown was the wonderful cake created by Mirjana from Torte, which was designed along the same thematic lines, and, of course, the dinnerware (provided by Betty May Vintage) was all retro to boot.


The Flowers


Wild Flos were in charge of the floral arrangements; they selected the flowers after screening Gattaca and loading up on inspiration. They also reviewed wedding trends from the 70s and took some cues from that too, in the form of roses and baby breath.


The Signage and Stationary


Nostalgic fonts and colours were the order of the day when it came to the signage and prints; they were all crafted from vintage materials such as perspex to give that extra bit of retro flair. They were designed by Rebel Reflect and made by Sketch & Etch.


The Photography


After all these wonderful creatives brought their talents together, it was up to me to capture the day in the best way possible. My goal was to create that nostalgic Kodachrome feel, so I opted for a mix of digital and analogue. I dusted off my 1973 Pentax camera and loaded it up with Kodak Porta 400, 160 and Ektachrome. I relied on the fine folks at Atkins Lab to develop and process my shots.
I also called in videography wizard Nathan Kaso to shoot some wedding film; he used real Super 8 film to capture the day, which is tough to find and hard to process. This made the day even more authentic and special.
All in all, this shoot was so much fun to work on, and really represented some of Melbourne's best wedding creatives coming together to produce something magical. Everything was coordinated to evoke the look and feel of sci-fi cinema, taking cues from classics like Gattaca and 2001: A Space Odyssey, but shaping them into the form of a dynamic, unique wedding. Check out the awesome results here!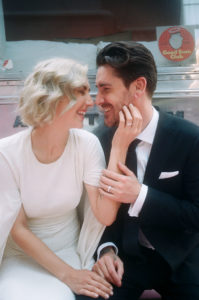 The Team


Behind the scene of this wonderful shoot was a team of undaunted and highly creative wedding vendors who love taking on a challenge. They include:
And of course, the wonderful couple themselves, Laura and Scott.
If you like the sound of what we pulled off here and fancy chatting about a theme for your own futuristic wedding in Melbourne (or any other kind of style you fancy!), get in touch with me and check out my other work! I'm always happy to hear from happy couples who feel like getting creative on their big day!